Police Department Khyber Pakhtunkhwa
(Recruitment Test For Constables)
Last Date For Application Submission : Thursday, 12th March 2015
Jobs Advertisement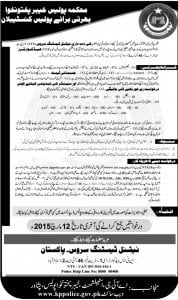 Multiple Choice Questions Tests With Answers,Online Free Tests for Entry Tests and Exams Preparation of Jobs. This website Page is particularly designed for Online ...
Read More
NTS Written Test Syllabus:
1 English Comprehension 30 %
2 Urdu 25 %
3 Islamiyat 20  %
4 General Knowledge (Including Pak. Studies) 25  %
Total 100
Written Test Date: Will be announced soon
Past Papers Practice Tests Lecturer Computer Science, Lecturer Computer Science ...
Read More
Islamic Studies Online MCQS Practice Test Islamic Studies Islamiat Islamyat ...
Read More