PTS Enforcement Officers Syllabus MCQs GK Pak Study MCQs pdf Sample Past Papers Format Pattern
Enforcement Officers Punjab Revenue Authority Finance Department Government Of The Punjab (PRA)
Last Date Of Application/Challan Form Submission 07 November 2017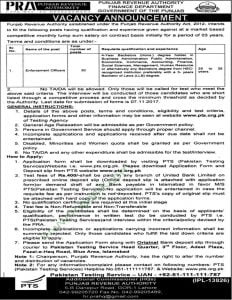 Written Test Syllabus
Multiple Choice Questions Tests With Answers,Online Free Tests for Entry Tests and Exams Preparation of Jobs. This website Page is particularly designed for Online ...
Read More
1 English Upto the graduation level Synonyms/Antonyms, Conjunctions, Prepositions etc.
2 Current Affairs & General Knowledge It may include Pak Studies, Indo Pak History and the current affairs (national & international)
3 Quantitative Skills Upto the graduation level
4 Analytical Reasoning Upto the graduation level
5 Taxation Specifically Sales Tax on Services Punjab 2012 (latest edition) may be consulted. It is available online. Other than that, general sales tax questions may also be included.
Pakistan Studies Past MCQs, Pak Study Entry Test MCQs Papers, Pakistan Studies Objective Type Notes for Tests Exams ...
Read More
Islamiat Solved MCQs Notes Past Papers Islamic Studies,Islamiat,Islamyat Past MCQs Notes for Preparation of Examinations PPSC Islamic Studies ...
Read More