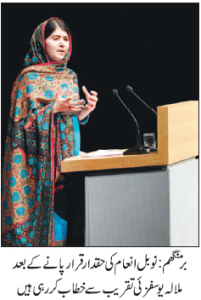 The Nobel Peace Prize was awarded to 17-year-old Pakistani Malala Yousafzai and India's Kailash Satyarthi for their work promoting children's rights.
Malala is the youngest person to be awarded the Nobel Prize.
Malala was 11 years old when she started struggle for girls' education, speaking out in TV interviews. The Taliban had overrun her home town of Mingora, terrorizing residents, threatening to blow up girls' schools.
Malala currently lives with her father, mother and two brothers in the English city of Birmingham, attending a local school. She has been showered with human rights prizes, including the European Parliament's Sakharov Award.
Malala Yousafzai was born in 12 July 1997 is a Pakistani school pupil, education activist and winner of the 2014 Nobel Peace Prize from the town of Mingora in the Swat District of Pakistan's northwestern Khyber Pakhtunkhwa province. She is known for her activism for rights to education and for women, especially in the Swat Valley, where the local Taliban had at times banned girls from attending school.
In early 2009, at the age of 11–12, Yousafzai wrote a blog under a pseudonym for the BBC detailing her life under Taliban occupation, their attempts to take control of the valley, and her views on promoting education for girls in the Swat Valley.
On the afternoon of 9 October 2012, Malala boarded her school bus in the northwest Pakistani district of Swat. A gunman asked for Malala by name, then pointed a Colt 45 at her and fired three shots. One bullet hit the left side of Malala's forehead, traveled under her skin the length of her face and then into her shoulder.