Government of Punjab, Transport Department in collaboration with PITB has introduced a student card scheme in Lahore, Gujranwala, Sialkot, Faisalabad, Rawalpindi, Multan and Bahawalpur.
Register here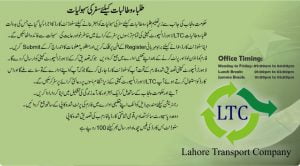 Sample Card
Multiple Choice Questions Tests With Answers,Online Free Tests for Entry Tests and Exams Preparation of Jobs. This website Page is particularly designed for Online ...
Read More
Pakistan Studies Past MCQs, Pak Study Entry Test MCQs Papers, Pakistan Studies Objective Type Notes for Tests Exams ...
Read More
Islamiat Solved MCQs Notes Past Papers Islamic Studies,Islamiat,Islamyat Past MCQs Notes for Preparation of Examinations PPSC Islamic Studies ...
Read More